Naughty or Nice III Slots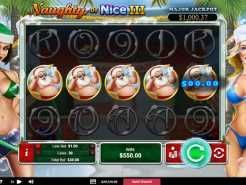 Current Jackpot
$2,093.14
Play Now
You may already have played the first two slots in this series, so where is the third one going to take us? If you've ever wondered where Santa goes when he's not delivering gifts on Christmas Eve, you're about to find out. This slot game gives us palm trees and a car wash-style setting! You can't say it's not unusual…
So, does it meet our expectations? They were high after the first two instalments, so let's see whether we can raise them further here.
Made by the same developer
And if you tried the other two games, you'll know they came from RTG.
We get another demo to try as well
Yes, it does come with a version you can try, so you can see what you think of it. Make sure you've got a 'play for real' message somewhere on the screen, so you know you're in demo mode.
How does the theme pan out?
There are festive touches here, but it's mostly about Santa taking a well-earned break. And the Naughty and Nice girls are both skimpily clad and working in a car wash, by the look of it.
Does it boast a great design?
It feels like it ought to be more Christmassy, but it does have festive touches along with the car wash elements rolled in. You're more likely to see bubbles and suds than any snowflakes, though!
Things to look for when you play Naughty or Nice III
Firstly, this is a five-reel slot, and you've got the traditional three icons on each reel. You may think there is a progressive jackpot involved, but the game has two - the display switches between them as you play.
The two girls both behave as wild icons. The Naughty Girl can show up grouped over the first two reels of the game. Meanwhile, the Nice Girl can appear in groups on the final two reels. Each one counts for everything except the scattered logo.
How many lines can you bet on?
There are 30 of them in action in this game.
Place those bets!
The default is to play three cents per spin, but you can drop this to a cent per spin. A dollar per line is the upper limit.
Paytable details
Don't miss the paytable because you'll need to know how the various features work in this game. This is the best place to learn more before you play.
Could you snag a random bonus?
This is the lucky feature and you sure would feel that way if you did trigger it. This can happen after any spin, and you'll either unlock the free spin feature mentioned below, or you'll get the Lucky feature. If you trigger the Lucky one, between five and 10 free spins will drop for you to play.
Free spins from the scatter
Can you find three logos anywhere in view? If you can, you'll get seven free games. Before they begin, you must choose one of the girls to give you a 2x multiplier if they help you win a prize during the games. The other girl can help with prizes too but won't have the 2x multiplier. Meanwhile, if you can pick up three more scatters at any point, a further five freebies will be added to your remaining total.
The games have one of two bonuses involved as well. If you get the Naughty Girl bonus, she'll either stand in for scatters or she will occupy the first reel for all the free games. If you get the Nice Girl bonus, she'll either occupy all of reel five or, if you're fortunate, she'll cover reel five and reel four as well.
You won't find the RTP anywhere
We know the slot devotes no more than 1.5% of the RTP to the jackpots, but other than that, no clue is available for the return to player percentage.
Our rating for Naughty or Nice III
This is another solid game in the series. We wonder if there will be more or if three is the charm? Either way, it has earned 8 out of 10 from us.
Winners will surely want the progressive jackpots
That said, there is some potential for decent prizes inside the free spins, especially if you get the Nice Girl going wild over two reels.
Play for some great off-season entertainment
You'll almost forget Santa is present in this game as it doesn't feel festive. It is still a thrill to play though, and we suggest you check out the demo to see what we mean.
Play for real this Christmas… or any other season!
It looks like the girls are washing cars during the summer, so if you're keen to learn more about what Santa does on his time off - and to go for some prizes - you can always play the real version.
Mobile gaming is also cool
Even though you'll be playing on a smaller screen, you can count on finding lots of superb action-packed gaming with Naughty or Nice III, no matter how you access it.