Achilles Deluxe Slots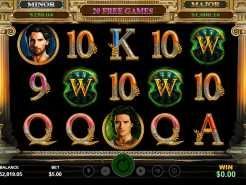 Current Jackpot
$2,128.75
Play Now
If you have read a few of our other slot game reviews, you'll know we delve into all areas of a slot game. Today, it is the turn of Achilles Deluxe to receive this treatment. Does it stand up to our exploration of its features? We are going to see whether it hits a higher mark than the original Achilles slot. This is a sequel that stands alone – more like a replication of the original with improved features. If that sounds promising, come with us to meet Achilles.
Does this game come from the same developer as the first slot?
Yes, if you recall loading and playing Achilles from Realtime Gaming, we can assure you that this game comes from the same team.
Does that mean we definitely get a demo version?
Yes, you can try it to see how it stacks up against the original, and whether you might want to progress to the real thing once you've played this version for a while.
It uses the same theme
There were no changes in this department, as Achilles connects to the story of Troy and the Trojan horse. So, all the main players and scenarios are present here, just as they were in the first game. It all looks more polished though, which we'll expand on shortly.
The design is far better than we expected
The original slot is still an excellent and popular one to play, but it is hard to ignore the huge leap in quality with this one. The characters look sharper and almost real, while all the details are far more involved here.
How to play your spins on Achilles Deluxe
As with the original game, we have five reels with three icons appearing on each one. It comes with not one but two progressive jackpot prizes as well. You can see these above the reels and keep an eye on their increasing values as you play. As for special icons, the W is a wild, appearing within a circle. You've also got the game logo behaving as a scatter. Find enough of those and you're assured of a prize, no matter where they appear. Wilds don't replace scatters in the base game.
How many paylines does the game have?
There are 20 in action, so you've got the chance to bet on those on each spin.
What are the betting options like?
Firstly, you can play it as a penny slot, meaning you'd wager 20 cents per spin. There are other coins to sort through as well though, so if you want to play more, you can.
Paytable details
This consists of just one page, so you need to read through the whole thing to learn the facts about the game. There is no need to switch pages as was the case with many older RTG slots.
Bonus features in Achilles Deluxe
We can keep this area short as the slot game doesn't have any bonuses to share.
Does that mean we are assured of some free spins?
Yes, and better still, we have two versions of this classic round to play. The first version comes from three logos – this is the scatter, remember. You'll receive 10 games with doubled prizes in this instance. You can trigger more in one of two ways, as well. Firstly, three more logos would do the trick, but secondly, you could also get more from two scattered logos plus one wild. Speaking of the wild, you may guess that this is the other trigger for some free games. Three wilds must appear in a single spin. You must then choose one to see how many games you'll play. The possibilities are 15, 20, and 25, so whichever one you choose, you're in for more spins than you'd get in one trigger of the other round. This version of the free spin feature carries a bigger multiplier too, this time coming in at 3x the usual amount. If you reach this feature, you can also expect the wilds to substitute for scatters.
RTP info remains unknown
That won't be a shock if you've played other RTG games as they never release confirmed return to player details.
Our rating: Does Achilles Deluxe stand up to scrutiny?
We believe so, yes. While the original is still a superb game to play, this one does look sensational, and you've got those two ways to trigger spins as well. We couldn't drop the score any lower than 8 out of 10 points.
Do we have news of any progressive jackpot winners?
Not at present, but stay tuned for news of the latest fortunate players to manage the task of unlocking that prize…
The demo is big on entertainment
And knowledge, too, as you'll see how everything works and figure out how far your budget would go for the real thing.
Play for real at your chosen RTG casino
With lots of online casinos operating on the RTG platform, it's simple enough to find the best one to use when you're ready to play the real version.
Achilles Deluxe on mobile platforms
No need to sit at your computer to play this modern slot game. Android and iOS tablets or smartphones are cool to play on too.