Shopping Spree 2 Slots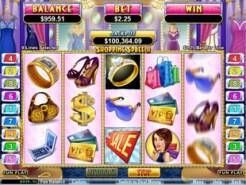 Current Jackpot
$532,844.18
Play Now
Posh shoes, smartphones, a gold credit card, expensive jewelry… it's all appearing on the reels of this dynamic slot game. You can check it out for yourself to see what you think, but we're going to review Shopping Spree II for you here to give you some insight into what you should expect. So, grab your gold card, put on some comfy shoes, and let's shop!
Developer information for this sequel game
We can rely on this one coming from the same developer the first one did, which happens to be Realtime Gaming (RTG). You should find it at all RTG-powered casinos, and you've got plenty of those to choose from.
Did you know you can choose the demo version?
Indeed, you can… make sure you can see the words 'fun balance' in the bottom left corner once you've loaded the game. This means you can try it without paying anything. Of course, you won't scoop anything for real but it does give you some insight into how it all works.
The title reveals the theme
And it's identical to the first slot in the duo… we are heading on a shopping spree to check out the expensive items on sale.
A basic 2D design
There is some detail here, but it's far from being a complex design. That said, everything is sharply drawn, and they've gone for some bright colors in places. The background shows that we are inside a shopping mall, which makes sense given the theme.
How to play the Shopping Spree II slot game
If you're thinking this game might have five reels, this much is confirmed once the game is loaded and ready to play. You can also spot a jackpot – usually a big one – above the reels. This game is known for its potential to go large on the jackpot. It was in six figures when we checked it out last. The first vital symbol to look for is the SALE ticket. This is a grouped wild on the middle reel, but it doesn't appear on other reels. However, it substitutes for everything other than the scatter, shown as the game logo. There is another treat to come if you can get a prize with the wild involved, too. It automatically brings you a multiplier, which could be 2x, 3x, 5x, 10x, or even a massive 20x. One appears at random, so who knows which one you might receive?
How many lines can you bet on?
There are just nine in this game, so that does make it more accessible for anyone looking to bet on a jackpot game with a smaller budget. You've got fixed lines in action here too.
Place your bets…
Or we should say your bet, as this game only seems to offer one wager. The total bet is $2.25, which means a quarter per line. There were no settings to adjust this.
The info button leads you to the paytable
That should be your first stop when checking out the game, so you can see what you think and what all the individual icons look like. You'll also get an idea of the wild and scatter icons and how they appear.
Is there a bonus feature?
There is of sorts, but since it appears as a bonus free games feature, we'll describe it in the next section.
Free spins in Shopping Spree II slots
Find three scattered logos and you'll get nine free spins. There are five more icons that may appear during these games. they show different figures – 100, 200, 300, 400, and 500. The games also have a Bonus Tally, so whenever you find one of those extra symbols, the amount goes onto the tally. Once the games end, you move on to the Bonus Free Games. Every 1,000 points in your Bonus Tally give you three free games to play. You can earn up to 12 in this manner. During these games, you'll see SALE wilds on the middle reel in every position – and for every spin. Now, what happens if you don't make it to 1,000 points to earn three extra spins? Simple – a consolation prize of between 3x and 100x your wager comes your way. If you don't earn any points, you'll get 100x your bet, and if you fall just short between 500 and 900 points, you get the smallest amount of 3x your bet.
RTP information you need to know
As with all other RTG games that we can think of, there is no chance of finding the return to player percentage for Shopping Spree II. This detail doesn't usually appear in their paytable or extra game info for the slot.
Our rating for Shopping Spree II
The best bit of this game – other than the chance to score the progressive jackpot -is that you can find your path to some free games, and the chance of the bonus games beyond that. This makes the games more interesting to play. We'd rank it as 9/10.
How to scoop the jackpot
This is tough, as you might suppose. The trick is to find four diamond rings plus a wild on the middle reel. The paytable shows this as displaying the 20x multiplier, so it isn't enough to get four rings plus any wild. You must get the biggest multiplier and if you do, you'll trigger the progressive jackpot.
Play the practice version to see what lies in store for you
This gives you some insight into what the game looks like in action and whether you might want to try the real version.
Play for real… if the bet suits your budget
Make sure you do check this first because any slot with a fixed wager like this is going to blow through your budget faster.
You can also play on mobile devices
Yes, whether you have an Android or iOS device, you can check out this Shopping Spree sequel via your smartphone or tablet.