Football Frenzy Slots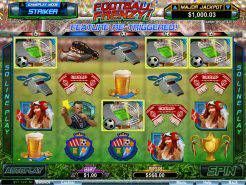 Current Jackpot
$1,738.80
Play Now
If you're a football fan, you won't want to miss this slot game. In fact, if you're a fan of well-designed slots with lots to offer, that could well be reason enough to give it a shot, too. Football Frenzy tells us all we need to know about the theme right there in the title, but what else does it offer? We hope you'll spend a little time with us here as we take you through each element of the game. If you'd like to play, you'll know just how to do it once we're done.
Developer info if you'd like to know more
This is an RTG game, and to us, that means we've got a slot game we'll want to check out in detail. Realtime Gaming is a market leader in online slots.
Don't miss the demo
You can find out how the game works by loading this version rather than the real thing. It's easy to do and it's ideal to start with.
You won't win a prize for working out the theme
We've already revealed it in the title, so let's move on to some other topics.
Exploring the design for Football Frenzy
It takes place inside a crowded football stadium. It looks real too, especially as the viewpoint is low, giving you a look at the grass and white lines. The reels appear over the top of that, and we can see players and supporters on the reels along with many other featured items too.
How to play Football Frenzy
This slot game has five reels yet gives us four icons per reel. You might also see the jackpot panel at the top of the reels, and this changes from the minor to the major jackpot amounts. The red-shirted striker is the wild symbol, appearing grouped on the first and fifth reels in base games. He carries a 2x multiplier along for the ride and substitutes everything apart from the scattered football stadium.
How many paylines are there?
You can play on 50 lines given the bigger reel set. These are fixed lines, so you're playing them all.
Bets on offer
You can start from 50 cents a spin, so that means playing a cent per line. The largest wager takes a dollar bet per line to give you a $50 total spin bet.
Look for the paytable by using the help option
This was so small we almost missed it, but you can find it near the bottom right area of the slot game.
A bonus feature gives us two ways to play
You may notice the Gameplay Mode option at the top of the screen when you load the Football Frenzy slot game. You can choose whether to play the Striker mode or Lucky mode. We'll learn more about these shortly. There is also a separate bonus called the Penalty Kick bonus. You can do this from within the free games (more about those shortly). To do this, find a bonus football on every reel during a free spin to receive the bonus. The bonus involves trying to go up the meter by scoring as many penalty kick goals as you can. The higher you go, the better the prize, with 900x your bet the best you can do. You might also see a gold bonus ball if you miss two goals or make eight goals. This gives you 3x the prize if you manage to hit a goal with the golden ball.
Free spins in Football Frenzy
If you're in Striker mode, all wins from your free games receive a 3x multiplier. This doesn't happen if you're in Lucky mode. However, if you choose that mode of play, you may randomly trigger eight free games following a spin. In each case, you can net free games from three, four, or five scatters. Three of them can get you eight free games. Finding four scatters will bring between 10 and 25 games. If you can find five scatters to trigger the feature, you'll get anything from 50 to 100 free games. Grouped strikers can appear on the middle reel throughout these games.
RTP details haven't appeared
If you know much about RTG games, you'll know this is the usual way of doing things. You won't see any return to player percentages for this one.
Our rating for Football Frenzy
We're not big football fans but we love this slot because of its many features. It is way more involved than lots of games, so we're giving it 9.5 out of 10. It might get a top score if there was an RTP involved.
Winners want those jackpots
One is bigger than the other, but really, if you managed to get one, you'd celebrate for sure, right? We'll let you know if news breaks of another jackpot winner for this game.
Play for some footballing entertainment in demo mode
If you want to see what Football Frenzy holds in store, check out the demo to start the action today.
Play for real if you like it
And we think you will… even if this isn't your favorite sport.
Mobile accessibility
You should be able to play this on tablets or smartphones if you prefer accessing the games that way.