The Elf Wars Slots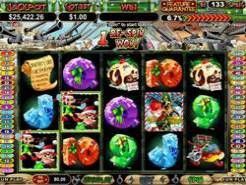 Current Jackpot
$7,127.89
Play Now
Hmm, do we want to watch what happens in this game? We think you'll want to check it out in detail because it does contain lots of unusual features given the theme. We don't think we are revealing too much to say it is based around the festive season, but elves arguing and causing wars? There is obviously a lot more to think about with this one…
Who is the developer?
The game comes from Realtime Gaming. They've created a few other festive slots before too, so we have plenty of hope this one will be another delight to play.
Demo access
You can try this game before you decide whether to commit some of your gaming budget to playing some real spins. With some RTG casinos, you may not even need to be a member to access this version.
Theme details
We know this one is set around Christmas, so we can expect gifts, Santa, and many other delights to appear on the reels as well.
An entertaining and festive design
They may have included the standard numbers and letters in this game, but they are all gift wrapped here. That makes them more appealing to look at. We've also got lots of other detailed festive icons… but we'll leave it to you to discover those!
What should you expect when you play The Elf Wars slots?
You get five reels here and there is a jackpot amount in the top left corner of the screen when it loads. Santa deserves a starring role here, and he gets it as the wild symbol. You'll also meet his most famous reindeer, Rudolph, who is used as another wild symbol. Surprised? You should be, but there are two scatters involved as well – a good one and another one that is far from good…
How many lines in action in The Elf Wars?
You've got 50 lines in this case, which should keep things interesting on each spin.
Potential coins to play with
The values of the available coins go from one cent to 50 cents. Make sure you work out the total bet with the lines in play first.
Paytable details
This game has more to offer than you'd think. That means it is vital to check through the paytable and rules before you begin. You can do this once you have loaded the game.
Bonus respin potential
If you manage to locate two of the good elves and two of the bad ones on the same spin, they'll all lock where they landed. A respin is then delivered, so you can see if you get another elf to match two of the ones you already have.
What about some free spins?
You may receive some of these if you find enough elves to trigger a feature. Three well-behaved elves can reveal Santa Strikes Back or the Jackpot Spins. The Santa round does have free spins involved. If you get the Jackpot Spins, you'll go forward to the Jackpot Wheel. This could net you an instant prize or even the jackpot. You could also end up receiving the Santa round we mentioned already. If you get three naughty elves on the reels at once, you will get a Rudolph-themed round. This could be Rudolph's Rampage or Rudolph's Revenge. In either case, you'll receive a bonus based around some free spins.
No idea of the RTP
That is an honest answer because RTG rarely releases this detail. Some people think the percentage is around 95%, which could be true of this one as well.
Our rating for The Elf Wars
We love this game because of all the bonus and free spin potential it carries with it. It also gives us something different to try – based on a seasonal and popular theme yet bringing with it an unusual angle. Worthy of 9/10, wouldn't you say?
Stay alert for news of jackpot winners
Yes, we can bring you news of those winners when we get it, so stay tuned to our site to read more about it.
Play for some demo action to begin with
If you are unsure whether this is the Christmas-themed slot you have been hoping to see, load the Elf Wars demo today to try it. We think that is the best way to work out what you think of it – at no risk to you.
RTG casinos let members play for real
They do, so that means you need to sign up and see if you can secure a welcome deal before playing the real version of The Elf Wars.
Mobile capabilities
As with many slot games you'll find online today, you can play this one on Android or iOS as well as the usual computer-based options.